"....you have a penis." My Wife. This morning. 2012.
She said that to her son. She does that periodically. Mostly to him - but she has been known to say it to me at random too. I must admit that I don't have much involvement with my wife and the other male people that she knows in her life. Most of them work for her. Therefore I'm hoping that she doesn't wander about the office remarking from time to time bluntly that they have penises too. Probably does. I should note at this point that my wife often points out that I need to watch the subject matter of what I'm saying because the children will come to understand it and it may have some enduring effect upon their psyche. Again - let's recap my wife's most memorable statements to her children
1 - You have a penis. (to my knowledge this has neverb een directed at our daughter)
2 - She has - with no prompting whatsoever - asked her daughter if she's ever stabbed a pig.
3 - Randomly asking said daughter if she's going to grow up to be a slut.
4 - Singing endless songs about antelopes. And has been famously mentioned - bursting into enthusiastic renditions of
Sir Mix A'Lot's I Like Big Butts And I Cannot Lie
.
On this particular morning she went for the, "you have a penis," comment to her son. Who - unfazed by the regularity of this statement - opened his mouth and pointed inside. "...and teeth...!" he helpfully offered. One can only presume that in the event of a tragic accident he believes coroners will be able to identify him quicly due to his unique teeth and legendary penis. Legendary only in the sense that his mother sees fit to remind him he has one on a twice-a-week basis. Either that or his knowledge of biology is so poor that he confuses teeth and his penis with such regularity that it's a certain that you do not - under any circumstances - want to borrow his toothbrush.
This morning though my wife went further with her comment about him owning a penis though. "Does Daddy have a penis?" she asked him. He did think about it and concluded that I don't. His answer had that air of, "...not really - when you think about it..." to it. My dignity and self-esteem returned quickly though once he confirmed that his sister does on her bottom. Which is patently untrue - unless she's already mingling with a bad-crowd and has a tasteless sordid tattoo on her arse that we aren't aware of yet.
Now - I am acutely aware that this is a difficult subject to get into. Any dalliance with it can lead to all sorts of dangerous waters. But we're all grown ups here - lets be mature, serious adults and laugh at my son's penis. I'm also aware that if you ever want to drive traffic all you need to do is make a spurious comment about an ethnic group, mention something that's going to inflame people who have appointed themselves as the guardians of decency (but who have a strange totalitarian vitriolic view of what decency is and their authority over the issue) or to spell the word "they're" when you really meant, "their." People will swarm like piranhas once they get wind of that. Which is annoying because this isn't indecent or edgy at all - it's banal, boring and mundane. Cleaning a child is monotonous and irritating. Fodder for angry people claiming the mantle of virtue, it isn't.
But, if you are a newer parent, or are expecting a child, or are even recovering after years of putting up with a male child - I can say in comfort and emotional safety that boy's willies are terrifying. They are weird, strange appendages that little boys - especially two year old boys that live in my house - are strangely proud of waggling about. My son has recently discovered his does all sorts of odd things and he's quite eager to stand in the middle of the room and innocently show the rest of the family - his chest puffed out in aw of his latest discovery - while he demonstrates it.
First off - I live in the United States. Which means that the de rigueur here for the foreskin to be removed. I'm sure my son will proudly look back on this day when I announce to this modest following that he still has his. Which leads to the second point. You have to clean that thing. If you haven't tried to clean one then let me assure you it is frustratingly difficult to master. Partly because the thing is fiendishly difficult to get a hold of and operate. But mostly because if you do get any sort of purchase then be prepared for your child to spasm about in hysterics.
Recently I've been able to gain some sort of understanding with my son that it's just a process -like cleaning your ears - that needs to be done and will be over quickly. Oddly at some point over the last four or five weeks he's taken to trying to repeat the activity by himself when he's on the toilet. But unlike the hygienic, mechanical process that we go through to ensure he doesn't get knob-rot or whatever - he grasps it and squeezes it violently someone trying to squeeze a snakes brains out of it's head. Which is irritating and frankly scary when he screws his face up and turns red in various places. But it's not as disturbing as when I've needed to go get him clean underwear due to a slight leak only to find him stood naked from the waist down in the living room trying to show his sister/the dog that he can do this -: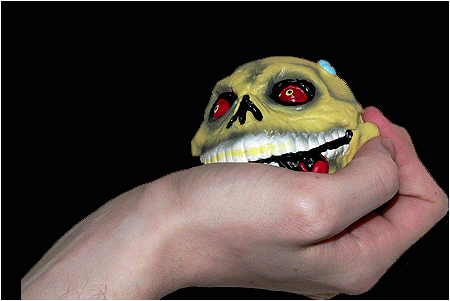 I feel I need to point out that isn't a gif of his trouser trombone. No -that's a stress toy. Although if his sister really has tattooed her arse there is a chance she's also dragged him along to get a zombie's face artistically inked onto his palm-pilot. My limited grasp on reality has actually worried me to the point now where I'm convincing myself that this is all true. Anyway - you need time to compute a moment like that. Walking in it whilst thinking about delightful innocent things like mowing the lawn or kittens and then seeing him squeezing his own plonker inside out is deeply unsettling.
But not quite as much as having to deal with the other form his trouser-terrapin can take. Let's be frank here - I'm referring to erections. I have to confess that I was totally unprepared for a boy's willy to behave like that. Mostly it seems to be that biological thing of being employed against his will to prevent him from peeing himself. So it really is a tool. If I feel like he's been too long between visiting the bathroom - or if he comes to me to say he needs to go - I still always forget to brace myself for the possibility that he may have taken on this form. My shock at it is only outmatched by the dirty Albert Steptoe laugh he'll make when he realizes it's happening as well. Then inevitably you have to direct him to hold it down before he basically urinates into the air two feet in front of himself like an escaped hose. And parents - there will be times when your little boy's reaction time won't be fast enough and you'll have to do it. And that's gross. Not only does it look like an entire pig and a Twiglet have accidentally been passed through that teleporter that turned Jeff Goldblum into a fly. But it also is as the same rigidity and resistance as one of those metallic springs screen doors have to ensure it flings shut again.
Amusingly he's just showed up telling me he has apple stuck in his teeth. Thank goodness he's pointing at his mouth.